District-Wide Announcements
District Vision Statement & Goals
VISION STATEMENT

Preparing Locally, Excelling Globally, to Build a Stronger Community


Click here to read the District Goals.
---
CAMP INVENTION
Behind every discovery is a curious mind! If you are on the search for a fun, weeklong summer program for your rising 1st-6th grader, you're in luck! We'll be hosting Camp Invention from June 16 to June 20, 2014.



Check out
www.campinvention.org
or call 800.968.4332 for registration information!

ACT NOW TO SAVE BIG. $25 OFF THROUGH MARCH 28, 2014.
Illinois State Scholars
Congratulations to Farmington Central's 2013-2014 Illinois State Scholars!

Only the top 10% of seniors in the state are awarded Illinois State Scholar status. Qualifications are based on a combination of the student's ACT score and his/her class rank. Over 144,000 students from 749 high schools in Illinois compete for this award.

This year's recipients are: Jessica Settles, Gracia Ramp, Megan Tusek, Kira LeBron, Josie Mitzelfelt, Katie Kiesewetter and Jack Stockmann.

---
UPDATED SPECIAL CALENDAR DAYS OF NOTE 2013-2014
Please click
here
to print a updated Special Calendar Days of Note 2013-2014 School Year Calendar.
Information on School Facility Sales Tax Proposition
On the upcoming March 18th ballot, both Fulton and Peoria Counties will be asking for residents to vote on a 1-cent School Facility Sales Tax to support the schools within their boundaries.
We ask that you please take time to read the flyers linked at the bottom of this announcement. These documents outline what the new tax can and cannot be used on, plus they remove many of the misconceptions associated with this initiative. The District will also be hosting informational meetings (dates to be determined at a later time) in order for our communities to have the opportunity to ask questions.
America's Farmers Grow Rural Education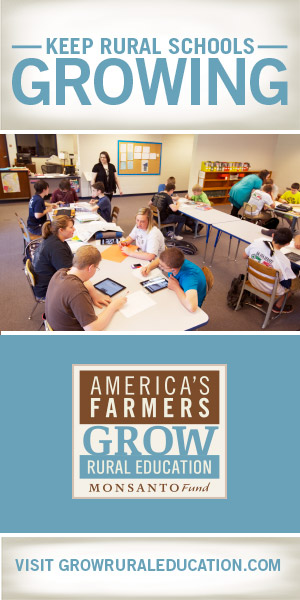 America's Farmers Grow Rural Education, sponsored by the Monsanto Fund, gives rural public school districts the opportunity to compete for a grant of up to $25,000 to help fund science and math programs. Eligible farmers can nominate local public school districts for a grant. Please ask all of the local farmers you know to nominate our school today.
Farmers in 1,289 counties across 39 states have the opportunity to keep rural schools growing by nominating their local public school district to apply for the grant. In 2014, the Monsanto Fund will award $2.3 million to rural school districts.
Grant applications will be judged based on merit, need and community support. The more farmers we have nominate our school district, the more it demonstrates community support and strengthens our application.
NHS & SENIOR AWARDS NIGHT MAY 14, 2014
NHS AWARDS NIGHT IS MAY 14, 2014 at 6:00 PM in the High School Auditorium
SENIOR HONORS AWARDS NIGHT IS MAY 14, 2014 at 6:30 PM in the High School Auditorium
2013-14 Choice/SES Data
To view Farmington Central's 2013-14 SES/Choice Data, please use the following link:
SES/Choice Data