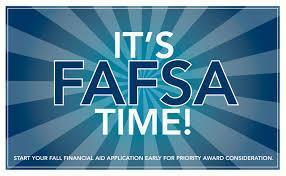 Reminder: Financial Aid Night is Tomorrow!
Erin Shaffer
Monday, October 07, 2019
REMINDER: Financial Aid Night for Seniors & Parents is TOMORROW, Oct. 8th from 6-8PM in HS Lab 649.
Join Jo Branson, Director of Financial Aid at Spoon River College, for an informational session about the financial aid process. Following the presentation, students/parents are invited to stay to complete their FAFSA form.