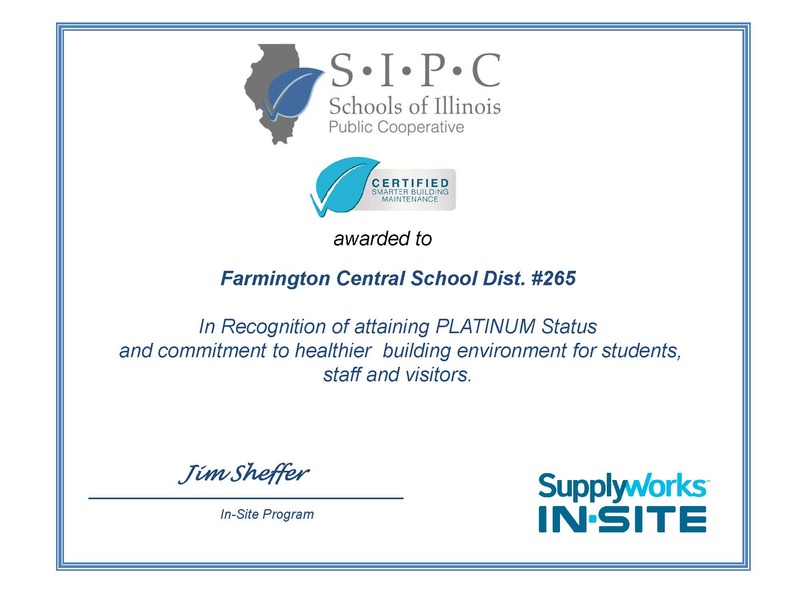 MOVING FORWARD, WE WILL PUT FORTH A CONTINUAL EFFORT TO CREATE AND SUSTAIN A SAFE AND HEALTHY WORKPLACE.
We will work safe and smart both at home and at work.

We will work to keep our building and work areas clean and organized.

We will have monthly safety talks.

We will work as a team to continually improve our work processes and safety program.
HERE ARE JUST A FEW OF THE THINGS THAT OUR MAINTENANCE DEPARTMENT IS DOING TO HELP MAKE US A "GREEN" CAMPUS!
Hard surfaces throughout the building are steamed to disinfect, instead of using harsh chemicals.

Pulper reduces footprint on items taken to the landfill.

Horticulture vinegar controls weeds.

Single-stream recycling is practiced throughout the District.

Gym lights were changed from multi-vapor to T5 high bay.

All AHU fans were put on VFD (variable frequency drives).

Parking lots were surfaced with GSB, an environmentally sensitive product that prolongs the life of the asphalt.
AWARDS AND COMMENDATIONS:
The Peoria County Board Recycling Recognition Award Winner - 2007, 2008, 2009, 2010, 2011, 2012, 2013 and 2014

Schools of Illinois Public Cooperative (SIPC) PLATINUM level of certification for our early adaptation to the "green" sustainable building mandates and guidelines - April 2017